Are you looking for top quality horse tack but your budget is limited? Or maybe you would like to find beautiful and unique equipment for you beloved dog but you want to find something not so expensive? Here you will find second hand horse tack from our workshop. All in very good condition and all with super discount! Also we would like to offer you beautiful dog equipment with great discount!
How to make an order? Write us to the chat (blue icon on the left), tell us what you want and we will send you a bill to pay. Item will be send to you in a 1-3 days after the payment is received by us
1) Bridle Vienna Lazypony. Full size. Perfect condition (used only ones – for photoset). Solid brass hardware. 90 euro
New one you can order HERE.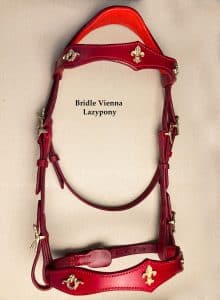 2) French cavesson Lazypony. Size: headstall 23″ (from the first to to the last hole); cheekpieces 8,5″: throatlatch 21″ (to the last hole); noseband 24″ (to the last hole). Good condition. Brown and green padding, brass hardware. 60 euro
New one you can order HERE.